---
Show ring Success from 1970-1998 - Canadian Breeders, Regionals, Halter & performance.
Now, we'd like you to show our horses!. We have some interesting and special horses for you to consider:














For more information about our horses, please contact us by the address, phone number, fax number shown above or our email address littleranch@bc.sympatico.ca



This is a very special award. Our site won this award out of 77 site. Thank you to All Horse Web Ring for this beautiful award. We are very proud of it and we are very happy you enjoyed our site.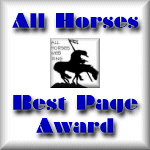 Best view at screen sized 800x600.





---